About the Artist
Pamela Zave began making doll clothes as soon as she was old enough to hold a needle. By the time she was a teenager, she was making all her own clothes.
Pamela stopped sewing for many years to concentrate on her career. She is an internationally known computer scientist with many publications, patents, and awards to her credit.
Her partner is the Cuban-American artist, designer, and illustrator Yolanda V. Fundora. Yolanda recognized in Pamela a keen visual sense and a suppressed need for artistic expression. When Yolanda encountered contemporary quiltmaking, she saw that it was the perfect artistic medium for Pamela, because of her facility with sewing. Yolanda began a patient campaign to convince Pamela that she did in fact have enough time for quilting. The campaign has succeeded completely, because making art is a rest from doing science, just as doing science is a rest from making art.
Pamela has been quilting since 2003, and is a member of the Studio Art Quilt Associates and the Garden State Quilt Guild.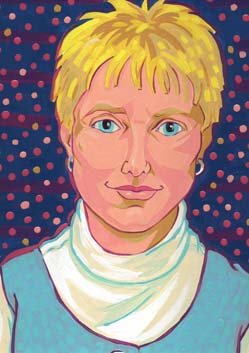 Painting of Pamela by Yolanda.
If you would like to contact Pamela, email her at pamelazave@mac.com