Lavender, Heliotrope, Hyacinth, Iris
57" x 57"
2004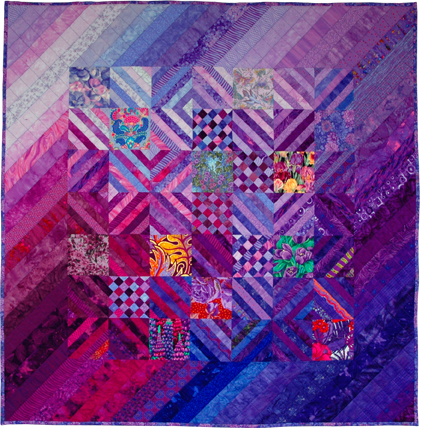 Purple is the most mysterious of the saturated colors, being a blend of the two ends of the spectrum, rather than a spectral range of its own. Apparently it is the most difficult color to see. This might account for its extraordinary charm--its many shades might blend and harmonize better than those of any other basic color.
In this quilt, I envisioned mixing every shade of purple with every other shade. The work of Michael James showed me how to do the mixing. This design was especially inspired by his Color/Rhythm: Bacchanal in the permanent collection of New York's Museum of Art and Design.
The floral fabrics are featured because they are so beautiful, because one of them inspired me to make this quilt, and because they bring in other colors to contrast with the purple.
Exhibited in the juried show A Garden State, Quilt Fest of New Jersey, Somerset NJ, March 2005.