The Color Wheel
61" x 53"
2004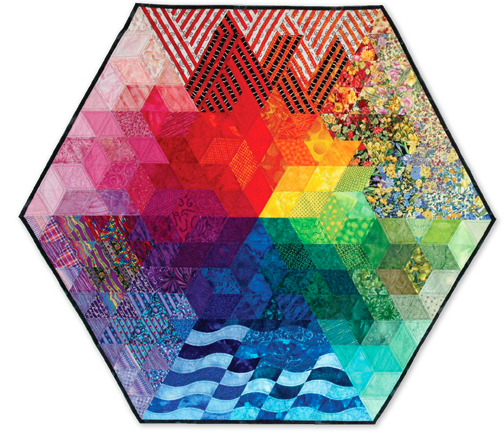 Outside the saturated center, I comment on the nature of each color. The purpose of red is to make pink. The purpose of yellow is to make flowers. The purpose of blue is to soothe. The purpose of orange is to shock. Green makes earth tones, and varies more than any other basic color. Purple is playful and strange.
Equilateral triangles arise naturally from the color wheel. Because they also make tumbling blocks, which have such depth, I used tumbling blocks as a subtle overlay pattern.
Exhibited in the juried show SAQA: The Creative Force at the International Quilt Market and Festival, Houston TX, October-November 2006.
Exhibited in the juried show Quilt for Art's Sake 4, Makeready Press Gallery and Gallery 214 ArtSpace, Montclair, NJ, November 2005-January 2006.